One of the quaint little boni with overlanding is that you get away from the proverbial beaten path. Between Marracesh and Senegal, there's not much to see or do, though. Towns are small and rundown, few and far between. There is, of course, the mighty Sahara desert, which is an impressive sight in its barrenness.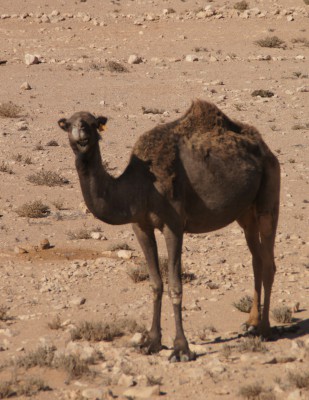 For the most part, it's not the undulating dune sea of postcard and tourist brochure fame, but rather a flat, rocky wasteland with scattered low bushes, windswept and vast.
There are some parts that look more Tattoiinesque, though. One of the many bushcamps we did was in the shadow of an impressive sand dune, 1600 jawa feet tall.
The call from the ridge was clear, and we climbed, scaled and hiked up to the peak for a spectacular view of the sunset and the moonrise. The wind was playing wildly, though, and the sand and dust was pretty much everywhere. Leaving my camera in the relatively dust free truck below, I had to keep the view in my mind, rather than capturing it on sensor.
There is also the rocky Atlantic coast. Erosion has shaped the coastline into a jagged zigzagy denture, with razor sharp cliffs and the occasional sinkhole, waves unyieldingly tearing down the sandstone. Sometimes the cliffs, more often than not towering some 30 metres above the sea, give way to sandy beaches, and after a few days of bushcamping, a dip in the waves did a decent job of getting rid of some of the traveller's dust, especially with the help of one Dr Bronner.
A welcome break from the long driving days and the camp dinners spiced with a not neglectable amount of sand, was the fishing town of Essaouira. Fresh fish, practically still flapping, was on offer at the many beachside eateries and grilled to perfection after having been chosen by the customer. A sit-down, non-vegetarian meal was like a feast, and
hitherto unbeknownst to me, was that freshly grilled sardines are tasty as.
Ever southwards, Nala the truck steamed on. If there ever was a doubt we were in Africa, any hesitation had left by the first sight of goats in trees and herds of dromedaries.
As quaint as a week of bushcamping is, with no access to showers, proper beds or toilets, a vacation it is not. How I longed for a bed and an ensuite! But alas, such luxuries are just that. In those circumstances, even a simple campsite is akin to a Four Season's resort; to be able to set up the tents before sunset, to have time to relax, taking in the sun while the sleeping bags airs, to wipe away the sand from clothes, liners and tents without them being refilled immediately; such pleasures!
The first campsite after the long sequence of bushcamping still had its fair share of sand, even though it was located in town. But it had toilets, warmish showers and even a little lounge area, with an actual table at which we could have supper. And even though it lacked regular sheets and pillows (and obvs bathroom), the room upgrade for around €6 was an easy choice. So, I suppose one of the quaint little boni with overlanding is that after long enough time in the bush, the simplest campsite can feel like a Four Seasons resort.