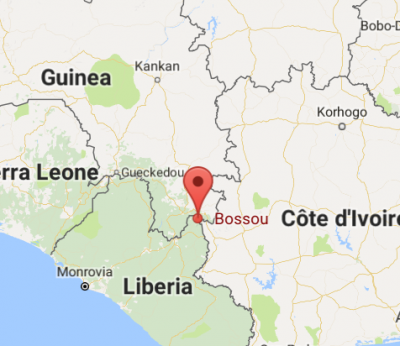 Back in Guinea, the bush beckoned. The bushfires roared, sometimes right beside the road. Controlled bushfires, though; a necessity in the extremely dry landscape in order to avoid the natural, and way more devastating ones
Rounding Liberia and heading south to the tri-nation border, the altitude rose, as did the humidity. Near Bossou, the forest could now more reasonably be called jungle, and that's where the Guinean chimpanzees like to live.
Unlike their brethren in Tacugama, these apes are free and wild. The area is a natural reserve, and we got to camp at the research centre before trekking into the jungle in search of the 7 or so chimps that were known to live in the neighborhood.
About an hour of trekking, and Jeje, the chief of the local chimp group, appeared, solemnly munching on the nuts he had cracked open with some rocks.
So I have now finally seen the other of my two favourite childhood animals in their right place, and despite the fact that my phone, and with it a lot of writing I had done, had died in me, I left Guinea waving to the locals.